What Do Odorous House Ants Look Like?
Odorous house ants are very common ants in the United States. These 1/4 of an inch long, black or dark brown ants let off a distinct rotten coconut smell when crushed. These ants have an oval-shaped head, a short thick thorax, and a slightly arched body.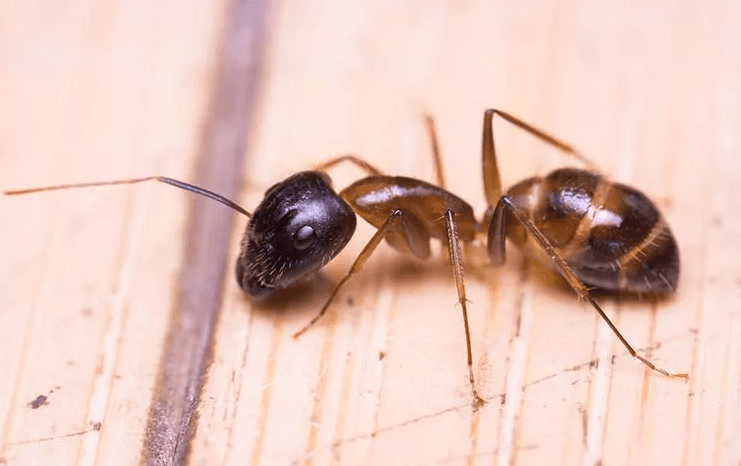 Where Do Odorous House Ants Nest?
Indoors, odorous house nests can be found inside walls or beneath floors. Outdoors, they build their nests in mild environments like meadows, grasslands, bogs, forests and sandy areas. Their nests can be tucked in shallow soil beneath debris, mulch, leaf litter, boards, stones, and in rotten logs and stumps.
What Do Odorous House Ants Eat?
Odorous house ants are omnivores, meaning they will eat anything that can be a source of sugar or protein. Some of their more popular food sources are:
Honeydew (from aphids)
Insects and spiders (both living and deceased)
Sugar
Honey
Butter
Ice cream
Meat and nearly every other human food made available to them.
Are Odorous House Ants Dangerous?
No, odorous house ants are not dangerous. They are generally classified as a nuisance pest. These busy little ants are active day and night, constantly foraging all day, every day for food. Once they discover a food source the will utilize that source until it is completely exhausted. Running back and forth from their nest to the food on well-established trials at all hours of the day. If those trails run through your pantry, over your countertop or in your cabinets than that will be hundreds of little ant footprints walking on your food, on your plates and silverware and over your counters. Bringing along with them the bacteria and germs that they have picked up along the way and leaving these little nuggets for you and your family.
How Does Innovative Pest Control Treat For Odorous House Ants?
Treating for odorous house ants is best done with a year-round pest control treatment plan from the experts here at Innovative Pest Control. We offer two top of the line pest control plans with our Advantage Plus and Advantage Total plans. Odorous house ants are eliminated and controlled in both plans, along with all the common pests that plague us here in Tyler and throughout Eastern Texas.
Odorous House Ant Prevention Tips
If you have an issue with odorous house ants, or any ants for that matter, here in Eastern Texas, it's best to contact the experts here at Innovative Pest Control as soon as possible to stop them in their tracks BEFORE they make well-establish tracks and trails into your home or business.
If you don't have an issue with odorous ants just yet, and are wondering if there's anything that you can do on your own to help keep it that way, here are a few things that can assist in deterring them from gaining entry indoors:
Be sure that all insect screens in windows and doors are intact and repair or replace any that need it.
Keep all gutters and watershed systems functioning correctly to prohibit any standing water.
Be sure that all utility entrances do not have any voids that allow insects to creep in by them.
Seal all cracks, holes, and crevices in the foundation and siding of the exterior of your buildings.
Bug Out on Savings! Don't Miss Our Special Offers