Our Team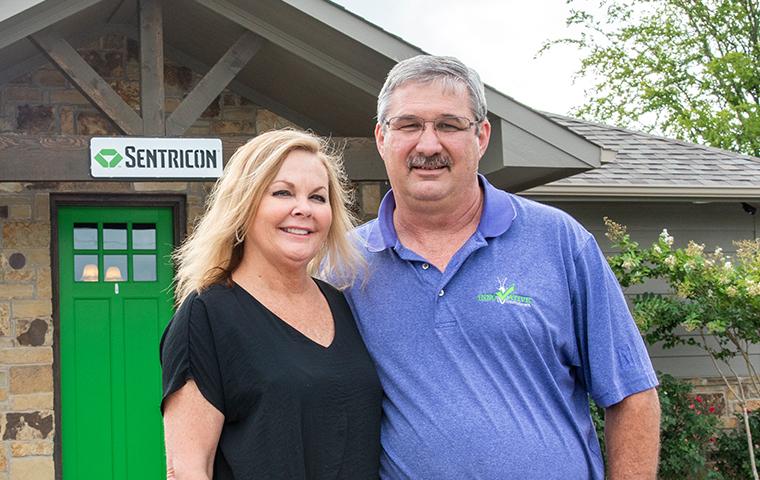 Tony Santangelo: Founder
Tony Santangelo is the Owner of Innovative Pest Control. Tony is licensed in pest, termite, lawn/ornamental,and weed control with the Texas Department of Agriculture, Structural Pest Control division. Over the last 25+ years, Tony has made it his mission to stay on top of the pest control industry. Tony attends industry and training meetings throughout the country to stay up-to-date with the latest innovations in pest management.

He has served as Vice President of the East Texas Pest Control Association for one year and President for five years. In 1996, Tony was chosen by Dow AgroSciences to be the first authorized Sentricon® operator in East Texas. Before storming the pest control industry, Tony attended Texas Tech University in the electrical engineering department and worked many jobs through college including a pharmacy technician. When leaving the hospital, Tony said "I'm going on to kill bigger bugs!!!"
Kelly Santangelo: Co-Founder
Kelly Santangelo is co-founder of Innovative Pest Control, wife of Tony Santangelo, and mother of two children. Kelly stays very involved in the local community, currently serving as Treasurer for the Lindale High School baseball booster club. Kelly grew up in Austin, TX, helping with their family-owned pest control business. Counting her teenage years, Kelly has over 30 years in the pest control industry. Kelly also held many jobs in the medical field including medical technologist for eight years and paramedic for two years. Kelly believes hard work, family values, and God can get you through any situation. Raising two teenagers, taking care of elderly parents, and battling MS (multiple sclerosis) has proven this philosophy.
Robert Grimes: Sales Manager
Robert Grimes is a certified applicator in pest and termite control with over 28 years of experience. Robert is the sales manager for Innovative Pest Control and has been working with IPC for 14+ years. Throughout this time, he has established remarkable customer retention and satisfaction. Robert specializes in residential pest control and new home pretreatments using the proven Boracare wood treatment method.

Robert has been married for 29 years to Jeanine Grimes and is the father of two boys. He and his wife sing in the choir at Green Acres Baptist Church in Tyler. Robert also prides himself in serving as a volunteer firefighter at Dixie Fire Department, and has been doing so for over 15 years.
Kevin Solomon: Certified Technician
Kevin Solomon has been with Innovative Pest Control since February 2015. He is certified in commercial and residential pest and termite control. Kevin has been extensively trained to provide effective pest control and outstanding service to each individual customer. He lives in Lindale, TX with his three children. Kevin enjoys the outdoors and spending time with his family.
Jake Munoz: Certified Applicator/Technician
Jake Munoz is a certified applicator in termite control and holds a technician license in pest control. Jake specializes in termite control and has extensive knowledge of the Sentricon® Colony Elimination System and its ability to exterminate termites. He has been in the pest control industry since 2009. Jake resides in Lindale with his wife and two daughters. He graduated from Lindale High School and attends Community Christian Fellowship. During his free time, Jake enjoys playing guitar and spending time outdoors.
Joseph Santangelo: Certified Technician
Joseph Santangelo is a certified technician in pest and termite control. He specializes in Sentricon® Systems and gopher and mole removal. He graduated from Lindale High School in 2016. He has worked summer jobs in the pest control industry since he was 16 and is now a full-time employee of Innovative Pest Control. Joe spent his summers playing select baseball in multiple states when he wasn't working. He loves sports of all kinds and lives in Tyler.
Amber Kaltenhauser: Office Administrator
Amber Kaltenhauser graduate Kaufman High School in 2002. She is a proud mother of five, and enjoys watching her children play sports and spending as much time at the beach as possible. She currently lives in Winnsboro, TX.
Joy Walker-Miles: Customer Service Representative
Joy Walker- Miles resides in Bullard,TX with her husband Walter. Joy is a mother of 5 and "Granny Joy" to one granddaughter. She graduated Jacksonville High School in 1993. In her spare time, Joy enjoys fishing, kayaking, gardening and attending sporting events.
John Durban: Certified Technician
John Durban graduated high school in 1998 from Community Christian in Amite, LA. He has been married to Andra for 18 years. They have four kids: Isaac, Kate, Jane, and Levi. He has 6 years' experience in the pest control industry and his hobbies are playing guitar and trying to keep up with his kids.
Rocky Rivers: Certified Technician
Rocky Rivers was born and raised in East Texas. He graduated from Lindale High School in 2002. Rocky and his wife Malory have 5 children (4 boys and 1 girl). He loves fishing, working out and spending quality time with his family.
Chris Gomez: Certified Technician
Chris Gomez grew up in the Tyler Chapel Hill area. He graduated in 1996 and has five children at the ages of 17, 15, 13, 7, and 2. Chris loves watching sports, grilling outside and fishing.